Affiliate disclosure: I am an Amazon affiliate and may receive a small compensation if you make a purchase through one of these links.
This is a list of kitchen items I use regularly. I only recommend products I use and love regularly. If I couldn't find the exact model I use, I substituted something similar. With the holidays around the corner, it is a great time to send your wish list to your family. Look through the list and find something you want to try using.
If you don't know how to cook, now would be a great time to learn. It is much healthier to eat food you prepare yourself than it is to purchase fast food or most restaurant food. Plus, you save a lot of money by not going out to eat. When you make food yourself, you have control over what you are eating and can fill your stomachs with nutrient-dense foods.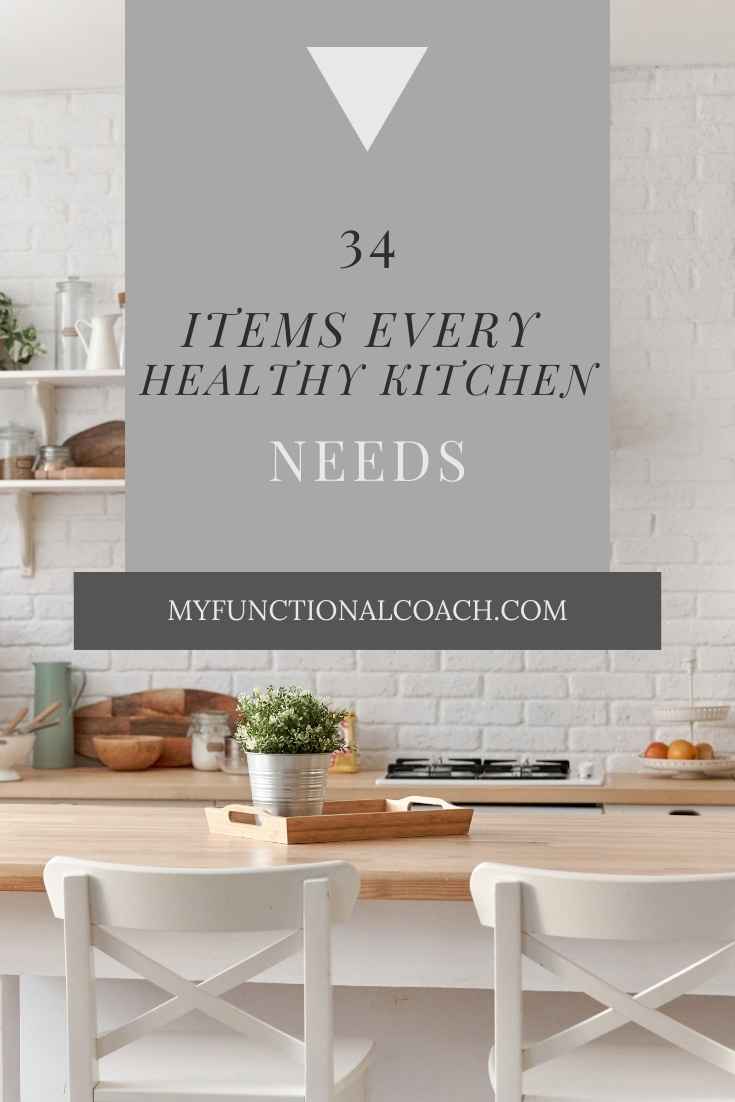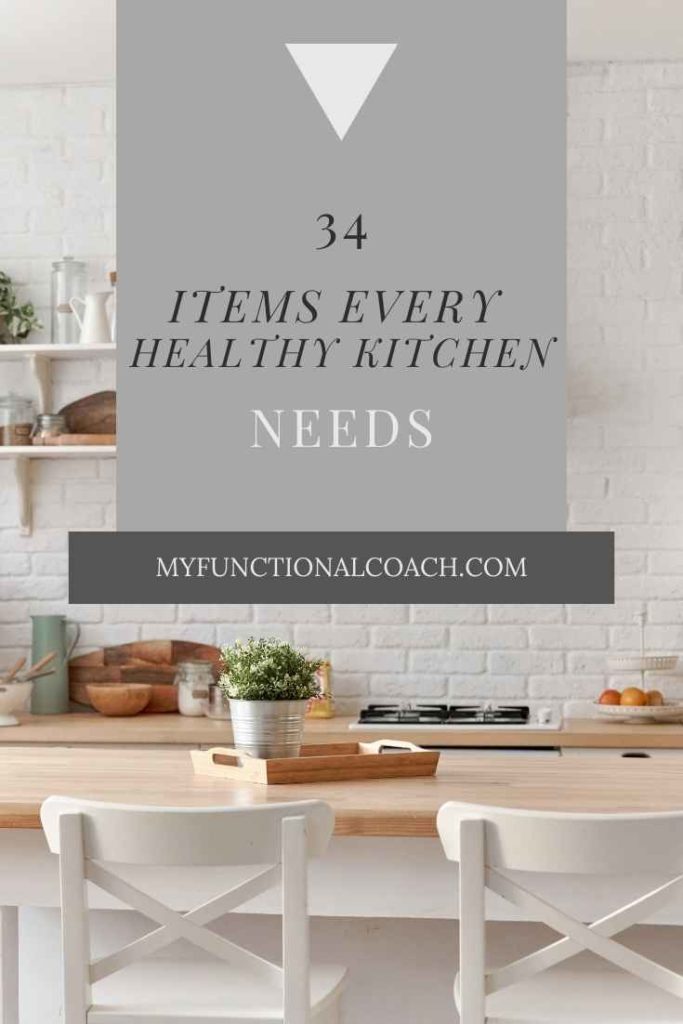 Essential List of Kitchen Items for Food Preparation
Before you cook, you need to prepare all the ingredients. Preparation activities include cutting, dicing, peeling, measuring, opening cans, straining, and whisking. I also use some gadgets to make my job easier. I've listed those in a separate section. Here is a list of kitchen items I use when I prep my ingredients.
A Chef's knife: for cutting and dicing almost everything, including meat and vegetables.
A paring knife: for cutting and slicing smaller vegetables.
Vegetable Peeler: for peeling the skin from potatoes, carrots, squash, etc.
Kitchen shears: for cutting herbs, green onions, and meat into smaller pieces.
Garlic Press: for the easiest way to add fresh garlic to most meals that I make. Garlic is great for your health for so many reasons. Of course, it's not great for everyone else on stage when you are in performances.
Cutting boards: to safely cut your food. It's best to have at least two different cutting boards (one for meat and one for produce)
Measuring spoons and cups: to properly measure my ingredients.
Mixing Bowls: for anything that needs to be mixed. I also use these for salad bowls.
Whisk: for mixing eggs and getting the lumps out of some sauces.
Strainers and colanders: for rinsing foods (beans, fruits, and vegetables) and straining fats from ground beef and other ground meats.
Pastry brush: for spreading oil onto vegetables and the occasional piece of bread.
Grater: for grating cheeses and vegetables. However, I usually use my food processor for the vegetables.
Can opener: for opening cans. I don't use an electric can opener because I never felt like I could easily keep it clean. I use a lot of canned vegetables, soups, and beans. So a can opener is necessary.
Citrus juicer: for squeezing fresh lemon and lime juices into my water, salads, and other foods.
Kitchen scale: for the days when I want to track my food more closely.
Check out this post for my favorite glass containers, which I use for food preparation and storing food.
Essential List of Kitchen Bakeware and Cookware:
After you prepare your ingredients, it's time to make your food. I use a slow cooker or Instant Pot a lot (see below). However, I make several meals in my oven (probably more so now because I have time to tend to the oven). These are my favorite types of bakeware and cookware.
Set of stainless steel pots: used for cooking everything on the stovetop. I do not use Teflon or non-stick pans. See why here.
Baking sheets: Used for roasting vegetables and making sheet pan meals.
Muffin pan: for making egg muffins. I don't use it to make normal muffins as I try to avoid bakery-type items in my diet.
Casserole dishes: for easy one-dish meals.
Broiler pan: for cooking some meats. I also use it as a baking pan if my sheet pan meals are too big for my baking sheets.
Essential List of Kitchen Cooking Tools
These are the tools I use during the actual cooking process.
Spoons (Wooden and stainless steel):
Ladle: for serving up soups and chilis. We eat a lot of soup because I love one-pot meals and I can make these meals nutrient-dense.
Spatulas: for using with my pans to flip foods and stir-fry foods.
Meat thermometer: to make sure I heat the meat to a safe eating temperature.
Pampered Chef Mix and Chop: to chop through ground beef and whole tomatoes and other vegetables as they cook.
Essential List of My Favorite Gadgets and Small Appliances:
This is my favorite list. I love gadgets! In fact, I have too many. Ask my husband. These are the ones I use regularly. I realize some of these are quite expensive, but we have used most of these appliances for years.
Vitamix: to make smoothies and banana ice cream. I seriously can't live without this machine. It's a powerhouse and blends frozen foods very well. We have had ours for at least 10 years and I use this at least 3 times a week.
Food processor: to shred and chop cheeses, vegetables, and nuts. I also use it to make nut butters.
Salad spinner: to take the excess moisture out of fresh lettuce after it's washed. No more soggy salads.
Spiralizer: to make zucchini noodles. I seldomly eat pasta because it isn't good for me. I like zucchini noodles as a substitute.
Instant Pot: to make one-pot flavorful meals easily. This is another gadget I can't live without. I use this at least once per week. Because you can saute and do almost everything in this pressure cooker pot, I think this is a game-changer in the kitchen.
Slow Cooker: to slow cook meats and one-pot meals. While I love my Instant Pot, I also like to use my slow cooker. I like the way roasts come out in my slow cooker better than my instant pot.
Hard-boiled egg maker: to make hard-boiled eggs that are easy to peel. My dad bought me a similar contraption, and it is seriously amazing! The eggs turn out perfect. We eat a lot of hard-boiled eggs because they are full of protein and other nutrients.
Immersion Blender: to mix and puree soups right on my stovetop.
Chest Freezer: to freeze the extra batches of food I make. Not every meal I make can be frozen—some foods just don't freeze well. However, most dishes freeze well. I often double-up on my recipes and store the extra helpings in the freezer. These freezer meals come in handy on show nights. Instead of having to make something from scratch, I heat a freezer meal. Then I know I don't have to resort to poor food choices.
Summary and a Freebie
Stocking your kitchen doesn't have to be overwhelming. If you want to eat healthier, decide what's best for you. What type of cooking sounds the most doable to you? An instant pot, a slow cooker, conventional stovetop, or oven cooking? If you aren't used to making your own meals, pick one of these ways to get started. You don't need to do it all. The important thing is to start with what you think would be the easiest and most appealing to you.
Are you on a health journey and feeling stuck? Download my free guide to bust through your plateau!
Disclaimer: I am not a medical doctor, therapist, Registered Dietitian, or financial advisor. The information presented is purely for informational purposes.  Check with a doctor or other professional before making any nutritional, fitness, lifestyle, or financial changes. The author and blog disclaim liability for any damage, mishap, or injury that may occur from engaging in any suggestions or ideas from this site.