This article may contain affiliate links which means I will be compensated if you make a purchase. I am a Grove affiliate and will be compensated for qualifying purchases. Learn more here.
Most people don't take the time to think about the toxic chemicals which they use daily in their lives. Some people may not even realize they are using products that are harmful to their health.
In all honesty, I never knew that the products I was using were terrible for me until I went through my functional medicine health coaching training. I thought I was killing the germs I needed to kill, but I didn't realize I was also killing the bacteria we need for a healthy gut. Plus, most conventional cleaning products are full of toxic chemicals, which are bad for the environment.
Disorders such as ADHD, autism, cancer, and chronic diseases are on the rise. Many scientists believe that the harmful chemicals in our own homes are playing a vital role.
What can you do to make sure you aren't bringing these toxins into your home? You can use healthy alternatives to these toxic chemicals, and that's where Grove Collaborative comes in to save the day! When I realized that many of my cleaning products were horrible for me and the environment, I researched healthier and safer products. That's when I found Grove Collaborative. I wish I had found this company sooner.
If you love to concoct stuff, you can always make your cleaning products using everyday household items such as baking soda and vinegar. Making your cleaning products is the healthiest option, but I don't have the time or the desire to do that. I tried this, but it isn't for me. Read below why I think Grove Collaborative is the best healthy option for cleaning products.
They sell many natural products and introduce you to products that you may have never heard of. I love trying new products, and the products they sell are an inexpensive treat.
They offer a 100% happiness guarantee. If you aren't happy with the product's quality, you can ship it back to Grove for a full refund within 30 days of the shipment. They even send you a prepaid shipping label.
The customer service is fantastic! You can email them, live chat with them, or call them. They promise you will reach someone within 24 hours.
You don't have to go to the store. By having the shipments come to your house, you stay safe at home. Plus, you have the potential to save money because you'll avoid impulse purchases.
They have excellent values of selling only environmentally friendly and nontoxic products. They demonstrate ingredient transparency, so you know exactly what is inside the products you are using. Read their values here.
These products smell amazing, especially Mrs. Meyer's Clean Day! Seriously, they smell so good that even my kids are more motivated to clean. Here are just some Mrs. Meyers scents: Acorn Spice, Iowa Pine, Honeysuckle (I love this one), Radish, Lemon Verbena (another favorite), etc. If you haven't cleaned with essential oils (one of the key ingredients in Mrs. Meyers), you are in for a treat!
Grove Collaborative is a certified B corporation, which means they "adhere to the most rigorous standards for prioritizing social, environmental, and community wellbeing."
They offer a VIP membership, which I think is worth the extra cost. I'll explain more below what the VIP service is.
They price match (just not on the first order). If you see the same product at another store for a lower price, you email them the link. They will then price match.
Many of the products offer refill sizes, which are economical and better for the environment. Once you buy the regular size product, you can keep refilling that container.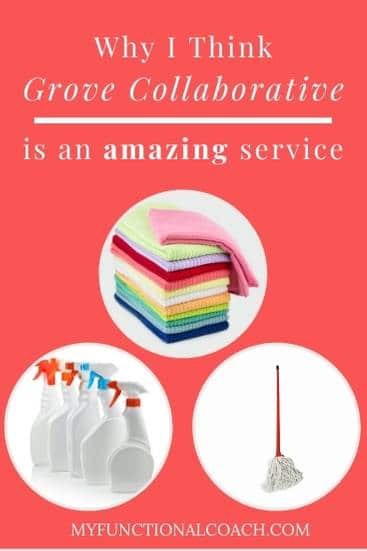 What is GROVE VIP, and How Much Does It Cost?
The advantages of signing up for Grove VIP are:
Free shipping with a minimum order. Read what those minimums are. If you aren't a VIP, you must pay for shipping each order.
Special Sales through an exclusive Facebook group.
Free Products. You are eligible to receive four free full-size products each year (one per quarter). These free products help make up the cost of the VIP membership.
When you first sign up for Grove Collaborative, you get a generous free 60-day trial of the VIP membership. Then it is only $19.99 per month.
How the New Customer Offer of Your Grove Cleaning Kit Works
Please order using this link, and you will get a free Grove cleaning kit along with the VIP membership trial. I get a small compensation if you go through my link, which allows me to maintain my blog as I get my health coaching business started.
You will then select your items. They pre-populate your order with some more popular items, but you change these out quickly.
Make sure you have ordered a minimum of $30 plus your gifts.
Download the app. Grove Collaborative will give you the instructions to do that.
Once you have placed your order, your order will ship to your house in a few days.
I shared below my first order. The total of my order was $34.30. This list includes my free gifts.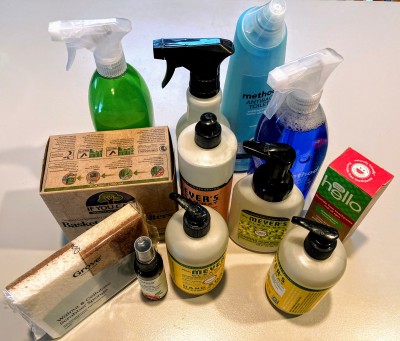 Mrs. Meyer's Dish Soap
Mrs. Meyer's Multi-Surface Cleaner
Grove Co. Walnut Scrubber Sponge
Method All-Purpose Cleaner
Mrs. Meyer's Foaming Hand Soap
If You Care Coffee Filters
Hello Kids Fluoride Free Toothpaste
Method Toilet Cleaner
Grove Hand Sanitizer Spray (I got this for socially sharing my order)
Method Glass Cleaner
2 Mrs. Meyer's Hand Soap
That is a lot of excellent smelling and safe products at a low price point. And, I don't ever have to order again if I don't want to. But, I definitely will order again.
While Grove Collaborative sets up automatic monthly shipments with products they think you will like, you can turn these shipments off. Some of these shipments include items you previously ordered set to a routine schedule based on how often people order these products. If you don't stick with the VIP membership, there is no additional charge with ordering from Grove, and shipping is $4.99. The order scheduling process is entirely flexible.
Not all products sold on Grove Collaborative have the same level of safety standards, according to the EWG (Environmental Working Group). While the products sold are safer and more eco-friendly than traditional cleaning products, you may want to double-check this website to order products that suit your safety level.
Here are the types of products you can get:
Cleaning products
Laundry detergent
Dish soap
Air fresheners
Clean beauty and skincare products
Personal hygiene items
Why Use these Natural Products?
In summary, Grove Collaborative offers many natural and environmentally friendly products. By less exposure to toxic chemicals, you will improve your health. Plus, they smell great, and you may find yourself getting extra help around the house. My family members have been cleaning the surfaces in our home more, which is an added and unexpected bonus.
To get your own free Grove Collaborative cleaning kit, please go through this link!
Disclaimer: I am not a medical doctor, therapist, Registered Dietitian, or financial advisor. The information presented is purely for informational purposes. Check with a doctor or other professional before making any nutritional, fitness, lifestyle, or financial changes. The author and blog disclaim liability for any damage, mishap, or injury that may occur from engaging in any suggestions or ideas from this site. For a full disclaimer, read this.