Now that I have been coaching for several months as a functional medicine coach, I realize how much of what I do is not what others consider traditional health coaching. I've discussed in previous posts how functional medicine deals with getting at the root cause of disease. However, as a health coach for performers, I'm not necessarily looking at disease. I am looking at the balance of a person's life. My initial visits with my clients involve a self-assessment of each person's life and whether they are in balance in all areas of their life. This includes work-life balance.
I didn't use to have balance, even though my health was generally okay. I've never been overweight, but I haven't always eaten well. And, my life would be entirely out of balance each time I got into a show. I would eat like crap, and as a result, my entire family would eat like crap. My house would become a mess, and I would stay up too late at night because I would be excited from rehearsing. I didn't know how to calm myself down and prioritize my sleep. I'm guessing if you are a performer, you struggle with these same things.
And then COVID hit. I learned from my actor friends that they suddenly seek balance and stability to deal with the unknown. Many find themselves drinking more, sitting more, and lonely without the camaraderie involved when we are in production.
Even though I miss many theater aspects, I feel like my functional medicine health coach training gave me the tools to get through this past year. I know how to create a work-life balance and an overall balance in my life. Here I will share what works for me. I'm not saying I know how to balance everything perfectly. I have a monologue deadline, which is looming, and I haven't touched it yet. And, I have a scary basement that has been on my decluttering checklist for years. But I know my priorities and how to make sure I take the time for them.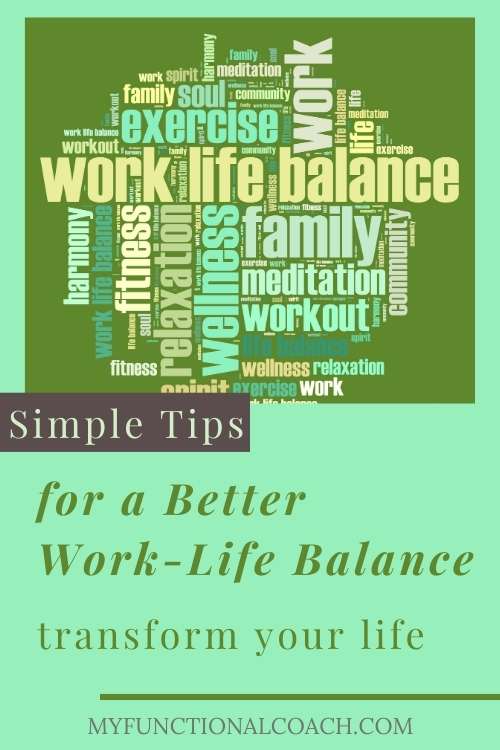 Figure out where your life is out of balance
When I first work with a client, I use an assessment tool that shows how you function in terms of the balance in your life. Then we work together to bring your life into a more-appropriate balance. Having a well-balanced life is essential to your well-being. It allows you to refocus your life so that all areas of your well-being are getting attention.
Here are some questions that you can ask yourself:
Do I get enough sleep?
How am I eating?
Do I take the time to exercise daily?
What is my stress level?
Am I taking the time to maintain and cultivate important relationships?
What do I do to practice self-care?
Do I have systems in place which help me stay successful with my wellness goals?
What is my daily routine? 
How do artistic endeavors and obligations affect my ability to remain healthy?
Are my actions in alignment with my strengths?
Once you have answered these questions, you will better understand where you should focus your energy. What do you need to improve to bring your life in better alignment?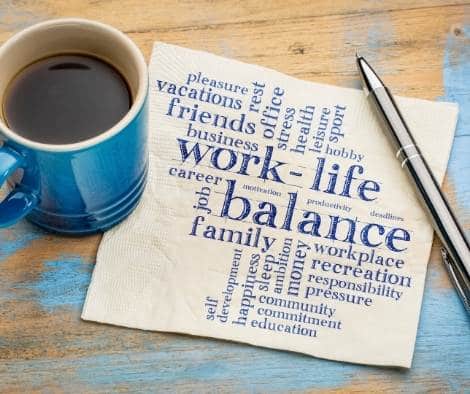 Setting Goals for Better Work-Life Balance
Now that you know where to focus your attention, it's time to set your goals. Determine why it's essential to create balance in your life. What is the motivation behind developing this balance? Better health? Better relationships? Less stress? Less chaos?
Once you determine your "why," picture what you want your life to look like in a few months? How will things be different? What do you need to do to get there?
Write out your goals and the steps you need to take to achieve them. Pick the areas of your life that you've neglected and start there.
After you have your goals, find a person who will hold you accountable. Studies show accountability partners increase the likelihood for success in goal achievement. When you publicly commit to a goal, you have a 65% better chance of completing the goal.
Benefits of a Better Work-Life Balance
If you are struggling with why you should improve your work-life balance, here are some benefits:
Your quality of life will improve because you will be less stressed and learn how to prioritize what is most important to you.
You will have more energy because you have set up systems and routines which take the guesswork out of what to do each day to reach your goals. You will not be floundering with how to keep it all together.
You will gain a healthier perspective because you can look at each area of your life and how it fits into the picture of your well-being.
You will have better health because you know how to take the time for nutritious food and exercise.
You know how to prioritize relationships and which ones are worth cultivating.
Challenges for the actor in creating balance
Not pre-planning meals. Stopping at a fast-food restaurant is easier than worrying about what's for dinner.
Late-night rehearsals make it challenging to get enough sleep.
Relationships become complicated with friends or family who don't understand what you do.
Not having other hobbies or interests when there is no artistic work (during the pandemic). Lack of purpose can lead to depression.
Tips for Developing Work-Life Balance as an Actor
Take time to breathe and learn how to breathe. Actors often learn to breathe for projection but are not necessarily taught how to breathe deeply and center themselves. Life can seem overwhelming, and the stress can seem too much. Practicing breathing helps you "tone" your vagus nerve, which reduces stress. Another advantage of breathing deeply is that it allows you to fall asleep faster.
Plan your meals. If you know that you have a project coming up, plan to make healthy choices. It's important to have natural energy when you are in production and to keep your immune system functioning at its best. Start doubling up on healthy recipes now and freeze the extra portions. Then all you have to do is remember to defrost and heat it.
Don't procrastinate. If you know that you have lines or songs to learn, begin learning your role right away. If you do things in bite-size chunks, you will stay on top of your health and your overall well-being. You won't be scrambling at the last minute.
Stop wasting time and work smarter. If you are one of the last people to get off book, take advantage of the drive-time to learn your lines. Use a line-learning phone app to practice as you drive to and from your day job. Please take advantage of your lunch breaks to work on dialogue so that you don't have to stay up late at night doing it.
Do a brain dump of all your responsibilities. Write everything down. Anticipate the life areas which tend to get out of control. If you know what might trip you up once a project engulfs you, you can save yourself some turmoil by planning for how you will manage your obstacles.
Prioritize. Take inventory of all the things you need to get done. Now, take a moment to rank the to-do list in terms of importance. Always do first things first. The activities that are most crucial need to be at the top of the list. You'll find that this approach helps you to focus on one thing at a time. Knowing that you've made time for each item is essential. It allows you to relax while doing each task instead of feeling anxious about something getting left behind. Try to complete each item before moving to the other.
Simplify your life. Don't take on too much. If you know you will be in rehearsals, ease the load in other areas of your life. Don't volunteer or take on extra work during the time of your artistic project.
Create systems and routines. Pay attention to your body and start noticing when you have more energy. Use these times to complete your most demanding tasks. It's almost impossible to do taxing activities on an empty tank. Take notice of how you spend your time throughout the day and use this information to develop routines. If you want to know how to create a solid morning routine, read this post.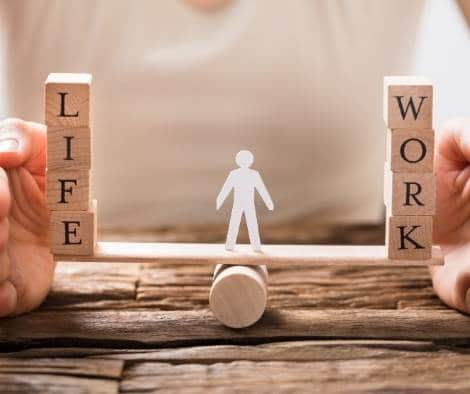 How a Functional Medicine Health Coach Can Help with Work-Life Balance
Learning to create balance in your life can be complicated, especially if you have never taken the time to focus on balance. As a functional medicine health coach, I help you visualize what you want for your future and then help you strategize how you will get there. As your coach, I help you anticipate obstacles and work on solutions to overcoming these obstacles. I also offer a healthy dose of the accountability that you need to move forward with focused intention.
Disclaimer: I am not a medical doctor, therapist, Registered Dietitian, or financial advisor. The information presented is purely for informational purposes.  Check with a doctor or other professional before making any nutritional, fitness, lifestyle, or financial changes. The author and blog disclaim liability for any damage, mishap, or injury that may occur from engaging in any suggestions or ideas from this site. For a full disclaimer, read this.